WODI-Ladys &
The-Happy-100-Drivers Hamburg
The-Happy-100-Drivers Hamburg
Wer Die Women Classic Drivers Community (WODI) und die Happy-100-Drivers Hamburg / by Personal invitation only.
Next events / Stay tuned …
Bis bald wieder zu einem unserer automobilen Get-Together den "Happy-100".
How to get invited: Die Einladung erfolgt wie immer privat und direkt in eure Mailbox.
Wir sind ein autobegeisterter Freundeskreis in Hamburg. Es treffen sich Ladies & Gentlemen mit Liebe zum Automobil: Es sind einige der Fahrerinnen der Women-Classic-Drivers Initiative (WODI-Ladys) dabei und ein gemischter Freundeskeis (Boys & Girls, Ladies & Gents) mit Classic Car und Sportscar-Begeisterung.
#th100: The-Happy-Hundred Drivers-Club  
Herzlich willkommen auf der Info-Seite der Gruppe "The-Happy-100". By personal invitation only.
www.thehappyhundred.com
Liebe Autoverrückte im Hamburg Netzwerk!
Uns vereint die Liebe für schöne Automobile.
Unser Motto: "Fahre Gutes und rede darüber."
Juni 2023
Ladys at the Classic Car Midsommer Night Drive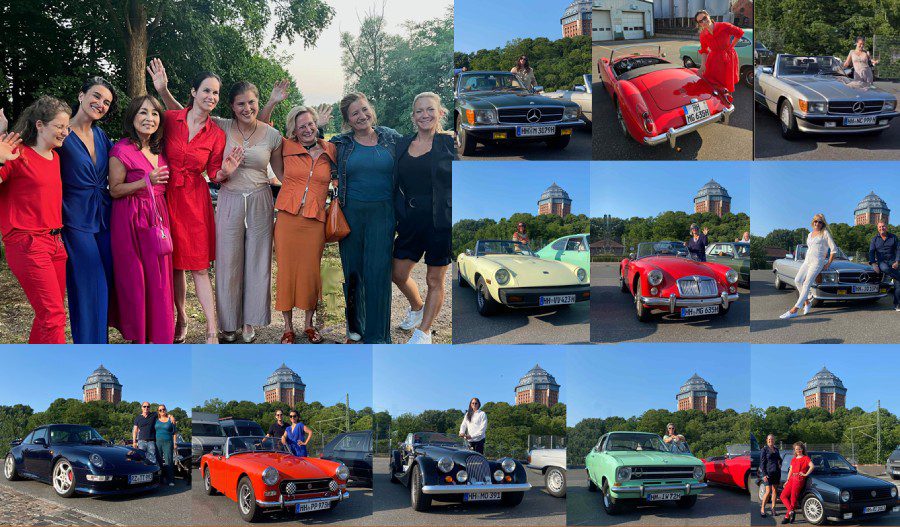 Jan 2023 – New Year`s Kick Off
Wir waren beim Training vom "ADAC-Fahrsicherheitscenter Hansa" – in Embsen bei Lüneburg. Bilder auf Facebook
Car Enthusiasts Night
12. Dezember 2021
WODI – Copyright 2023. All rights resevered.